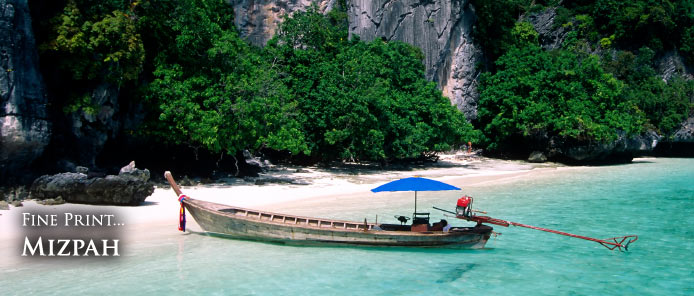 Terms & Conditions
Mizpah International Pty Ltd ("Mizpah") Website – Terms of Use and Legal Restrictions
ATTENTION: PLEASE READ THESE TERMS AND CONDITIONS ("TERMS") CAREFULLY BEFORE USING THIS WEBSITE. USING THIS WEBSITE INDICATES THAT YOU ACCEPT THESE TERMS. IF YOU DO NOT ACCEPT THESE TERMS, DO NOT USE THIS WEBSITE.
Use of Site
Mizpah International Pty Ltd ("Mizpah") authorises you to view and download the materials at this website ("Site") only for your personal, non-commercial use, provided that you retain all copyright and other proprietary notices contained in the original materials on any copies of the materials. You may not modify the materials at this Site in any way or reproduce or publicly display, perform, or distribute or otherwise use them for any public or commercial purpose. Any use of these materials on any other website or networked computer environment for any purpose is prohibited. The materials at this Site are copyrighted and any unauthorised use of any materials at this Site may violate copyright, trademark, and other laws. If you breach any of these Terms, your authorisation to use this Site automatically terminates and you must immediately destroy any downloaded or printed materials.
Disclaimers
THE MATERIALS (INCLUDING PRODUCTS) AND SERVICES AT, AND AVAILABLE THROUGH, THIS SITE ARE PROVIDED "AS IS" WITHOUT WARRANTIES OF ANY KIND, WHETHER EXPRESS OR IMPLIED, INCLUDING WARRANTIES OF MERCHANTABILITY, FITNESS FOR A PARTICULAR PURPOSE, OR NON-INFRINGEMENT OF INTELLECTUAL PROPERTY.
Mizpah's obligations with respect to its products and services are governed solely by any agreements under which they are provided and nothing on this Site should be construed to alter any such agreements. Mizpah further does not warrant the accuracy and completeness of the materials or services at this Site. Mizpah may make changes to the materials and services at this Site, or to the products and prices described in them, at any time without notice. The materials and services at this Site may be out-of-date, and Mizpah makes no commitment to update the materials and services at this Site. Mizpah does not represent or warrant that the functions contained in the Site will be uninterrupted or error-free, or that the defects will be corrected, or that this site or the server that makes the Site available are free of viruses or other harmful components. Information published at this Site may refer to products, programs or services that are not available in your location. Contact Mizpah for information regarding the products, programs and services that may be available to you. Applicable law may not allow the exclusion of implied warranties, so this exclusion may not apply to you.
Limitation of Liability
IN NO EVENT WILL MIZPAH, ITS SUPPLIERS, OR OTHER THIRD PARTIES MENTIONED AT THIS SITE BE LIABLE FOR ANY DAMAGES WHATSOEVER (INCLUDING, WITHOUT LIMITATION, THOSE RESULTING FROM LOST PROFITS, LOST DATA, BUSINESS INTERRUPTION, OR INCIDENTAL, SPECIAL OR CONSEQUENTIAL DAMAGES) ARISING OUT OF THE USE, INABILITY TO USE, OR THE RESULTS OF USE OF THIS SITE, ANY WEBSITES LINKED TO THIS SITE, OR THE MATERIALS (INCLUDING PRODUCTS) OR INFORMATION OR SERVICES CONTAINED AT ANY OR ALL SUCH SITES, WHETHER BASED ON WARRANTY, CONTRACT, TORT OR ANY OTHER LEGAL THEORY AND WHETHER OR NOT MIZPAH HAS BEEN ADVISED OF THE POSSIBILITY OF SUCH DAMAGES. APPLICABLE LAW MAY NOT ALLOW THE EXCLUSION OR LIMITATION OF INCIDENTAL OR CONSEQUENTIAL DAMAGES, SO THESE LIMITATIONS OR EXCLUSIONS MAY NOT APPLY TO YOU.
Copyright
The entire content included in this site, including but not limited to text, graphics or code is copyrighted as a collective work under Australian and other copyright laws, and is the property of Mizpah. The collective work includes works that are licensed to Mizpah. Permission is granted to electronically copy and print hard copy portions of this site for the sole purpose of placing an order with Mizpah or purchasing Mizpah products or services.
Any other use, including but not limited to the reproduction, distribution, display or transmission of the content of this site is strictly prohibited, unless authorised by Mizpah. You further agree not to change or delete any proprietary notices from materials downloaded from the site.
Trademarks
All trademarks, service marks and trade names of Mizpah used in the site are trademarks or registered trademarks of Mizpah.
Mizpah implicitly acknowledges all trademarks of organisations other than Mizpah referred to on this Site.
Termination
These terms and conditions are applicable to you upon your accessing the site and/or completing the registration or shopping process. These terms and conditions, or any part of them, may be terminated by Mizpah without notice at any time, for any reason. The provisions relating to Copyrights, Trademark, Disclaimers, Limitation of Liability and Indemnification shall survive any termination.
Notice
Mizpah may deliver notice to you by means of email, a general notice on the Site, or by other reliable method to the address you have provided to Mizpah.
Indemnification
You agree to indemnify, defend, and hold harmless Mizpah, its officers, directors, employees, agents, licensors and suppliers (collectively the "Service Providers") from and against all losses, expenses, damages and costs, including reasonable legal fees, resulting from any violation of these terms and conditions or any activity related to your account (including negligent or wrongful conduct) by you or any other person accessing the site using your account.
Links to Third-party Websites
Links on this Site to third-party websites are provided solely as a convenience to you. If you use these links, you will leave this Site. Mizpah has not reviewed all of these third-party sites and does not control and is not responsible for any of these sites or their content. Thus, Mizpah does not endorse or make any representations about them, or any information, products, services or materials found there, or any results that may be obtained from using them. If you decide to access any of the third-party websites linked to this Site, you do this entirely at your own risk. Nonetheless, Mizpah seeks to protect the integrity of its own Site and the links on it and therefore requests any feedback on this site, including if a specific link does not work, and for sites it to which it links.
General
Mizpah administers this Site from its offices in Australia. Mizpah makes no representation that materials or services at this Site are appropriate or available for use outside Australia, and access to them from territories where their contents are illegal is prohibited. You may not use or export or re-export the materials or services at this Site or any copy or adaptation in violation of any applicable laws or regulations including without limitation Australian export laws and regulations. If you choose to access this Site from outside Australia, you do so on your own initiative and are responsible for compliance with applicable local laws. These Terms will be governed by and construed in accordance with the laws of the State of Queensland, without giving effect to any principles of conflicts of laws.
Mizpah may revise these Terms at any time by updating this posting. You should visit this page from time-to-time to review the then-current Terms because they are binding on you. Certain provisions of these Terms may be superseded by expressly designated legal notices or terms located on particular pages at this Site.
Guidelines for Linking to Mizpah's Websites
You may create links to this Site from other sites, but only in accordance with these guidelines and in compliance with all applicable laws.
A site that links to Mizpah's websites:
May link to but not replicate Mizpah content
Should not create a browser or border environment around Mizpah content
Should not imply that Mizpah is endorsing it or its products or services
Should not misrepresent its relationship with Mizpah
Should not present false information about Mizpah products or services
Should not use any Mizpah logo without permission from Mizpah
Should not contain content that is illegal or illicit, or that could be construed as distasteful, offensive or controversial
Should contain only content that is appropriate for all age groups.
Using this site means you accept its terms.
______________________________________________________________________
Mizpah International Pty Ltd ("Mizpah") Terms and Conditions of Sales of Products and Services
PLEASE READ CAREFULLY: THE FOLLOWING TERMS AND CONDITIONS OF SALES OF PRODUCTS AND SERVICES ("TERMS") (WITH ANY ADDITIONAL TERMS IF SO SPECIFIED) WILL APPLY AND GOVERN ALL SALES OF MIZPAH PRODUCTS AND SERVICES.
BY PURCHASING PRODUCTS OR SERVICES, YOU AGREE TO THE TERMS BELOW. IF YOU ARE ACCEPTING THESE TERMS ON BEHALF OF ANOTHER PERSON OR A COMPANY OR OTHER LEGAL ENTITY, YOU REPRESENT AND WARRANT THAT YOU HAVE FULL AUTHORITY TO BIND THAT PERSON, COMPANY, OR LEGAL ENTITY TO THESE TERMS. IF YOU DO NOT AGREE TO THESE TERMS, AND DELIVERY OF THE PRODUCT IS EFFECTED, DO NOT USE THE PRODUCT, AND PROMPTLY RETURN IT WITH PROOF OF PURCHASE TO MIZPAH.
THE DISCLAIMERS AND LIMITATION OF LIABILITY SPECIFIED ABOVE ALSO APPLY TO THE PURCHASE OR RECEIPT OF ANY AND ALL PRODUCTS OR SERVICES FROM MIZPAH.
Prices
Prices exclude Delivery charges unless otherwise indicated on the order form. Prices are valid for the period indicated, subject to correction of any incorrect price as detailed below. The final price will be fixed at the time Mizpah sends its acknowledgement of your order. You must notify Mizpah promptly of any errors or omissions of any kind in payment terms, including price, contained in Mizpah's acknowledgement.
Mizpah reserves the right to correct the price of any product or service at any time prior to Delivery where there has been a typographical or other error in the price, whether the incorrect price is greater or less than the correct price. Mizpah shall notify you of the corrected price. You may choose to pay the corrected price; however, if you do not choose to pay the corrected price, then Mizpah shall have the right to cancel your order without further obligation to you. If your credit card has already been charged for the purchase and your order is cancelled, Mizpah shall issue a credit to your credit card account in the amount already charged to your credit card for the cancelled order.
Orders
All orders are subject to acceptance by Mizpah as evidenced by Mizpah's acknowledgement.
Delivery
Mizpah will make reasonable efforts to ship your order within any delivery times that might be stipulated in the order acknowledgement. If Mizpah is unable to meet this deadline it will notify you of any expected delay and offer the option of a substitute good (which may be a different price) or a refund of the payment made. If you choose to take the substitute good, your order will be amended and a new acknowledgement sent by Mizpah.
Mizpah will not make deliveries to schools, hotels, motels and restaurants except to offices of these establishments. Mizpah will also not make deliveries to PO boxes, pavements and streets. Mizpah reserves the right to ask for information required to authenticate the identity of the purchaser including name, address and credit card number prior to handover of the goods ordered.
Shipment and Risk of Loss
Mizpah will ship according to Mizpah's standard commercial practice, and risk of loss and damage will pass to you at the Ship To address. If special packing or shipping instructions are agreed, charges will be billed to you, and risk of loss and damage will pass to you on delivery to carrier.
Cancellations, Returns and Refunds
In addition to the mandatory statutory rights available to customers under applicable consumer laws, Mizpah will issue a customer a refund if an already paid-for order for a Product is cancelled prior to Shipment of the Product. "Shipment" is defined as the time the Product is ready to be loaded on any mode of transport Mizpah chooses for the purposes of Delivery.
Payments
Payment must be made in the manner prescribed on the order form. Any credit terms are subject to Mizpah approval.
Mizpah may discontinue performance if you fail to pay any sum due, or fail to perform under this or any other Mizpah agreement if, after 10 days written notice, the failure has not been cured.
General
Mizpah will not be liable for performance delays or for non-performance due to causes beyond its reasonable control.
If either party becomes insolvent, is unable to pay its debts when due, files for bankruptcy, is the subject of involuntary bankruptcy, has a receiver appointed, or has its assets assigned, the other party may cancel any unfulfilled obligations.
You may not assign any rights or obligations hereunder without the prior written consent of Mizpah.
Disputes arising in connection with these Mizpah Terms and Conditions of Sale will be governed by the laws of Queensland, Australia.
Provisions herein which by their nature extend beyond the termination of any sale of Products or Service will remain in effect until fulfilled.
These Mizpah Terms and Conditions of Sales of Products and Services and any additional terms referred to within these Terms and Conditions and electronically linked thereto constitute the entire agreement between Mizpah and you, and supersede any previous communications, representations or agreements between the parties, whether oral or written, regarding transactions hereunder. Your additional or different terms and conditions will not apply. Your purchase of Products or Services will constitute your acceptance of these Mizpah Terms and Conditions of Sales of Products and Services, which may not be changed except by an amendment signed by the parties.
Using this site means you accept its terms.
Mizpah Terms and Conditions version 1.1 2010-11-27.
Shopping cart
There are no products in your shopping cart.